Baby Harris is finally here! Join us in congratulating the Harris family and our newest little LifeSpringer!
CONGRATULATIONS AND WELCOME TO THE WORLD precious baby boy!
From the Harris family – "The prayer of "deliverance" worked!!!! Felt lots of pressure during lunch. Started contractions at 1:55pm. Went into the birth center at 6:30pm and he was born by 8:40pm. Labor was much easier and faster this time around, but I must say the birthing part was much more intense. He is much bigger than Hendrix was. Koah Levi 9 lbs 22.25 inches. Thank you all for the love and support."
The Winter Jam was incredible as always. If you haven't been, they will be back next year and you just gotta go!
The lineup included Newsboys, Tenth Avenue North, NewSong, Colton Dixon, and eight more. The speaker was the amazing Nick Hall. It's only $10 at the door. Make your plans to come out with us next year.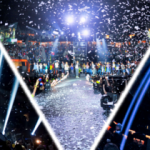 Our new bumper stickers have arrived. What a great easy way to tell people how much you love LifeSpring! Get yours today for only $3! See Amanda.