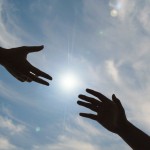 The Helping Hands Outreach ministers to the homeless and needy population of Hillsborough County. This team of dedicated workers is led by Deacon Steve.
Helping Hands Ministries began in 2012 with zip lock bags containing several small items. We then started to include McDonalds gift cards. A few months later and winter approaching, a church member asked Steve if he would like to have clothes to give out. All of a sudden we had an onslaught of clothes, shoes, jackets, blankets. The rest, as they say, is history!
The members meet the last Saturday of each month for a designated location. Leaving the Church with many bags and boxes filled to capacity, they return about an hr later – completely empty handed. A great day indeed!